REGISTRATION IS CLOSED!
THANK YOU FOR YOUR SUPPORT!
----
Participatory Arts Workshop
26 November 2016 (Saturday), 9:00am – 5:30pm
Pasir Ris Elias Community Club
Workshop fee: $36
Please complete and submit the following application form. (All information supplied on this form will be kept confidential). Closing date for applications is Monday, 21 November, 3pm
Applicants will receive confirmation of their participation by Wednesday, 23 November, 6pm.
Late or incomplete applications will not be considered.
Please fill in all fields. Indicate "NA" if the field is not applicable.
The workshop will be conducted in English.
Workshop Organiser: National Arts Council (NAC)
Workshop Facilitator: Participate in Design (P!D)
Venue Partner: Pasir Ris Elias Community Club
Overview
In our continuous effort to provide formal and informal training opportunities for artists, NAC is piloting a series of workshops to introduce alternative frameworks to better engage communities through the arts. This series of workshops will focus on practical tools and methods that may serve as a supplement to the artists' existing practice in this field.
WORKSHOP BRIEF
Participate in Design will be sharing on some of the practical tools and approaches that they employ to bring the community into the creative process and thus, engendering community ownership in shaping the environment they live in and/or addressing common issues within the community.
what can you expect from the workshop!
 
Introduction
PARTICIPATORY ARTS ORIENTATION
1. Get to know the different concepts surrounding community participation
2. The 'What & Why' of Participatory Arts through case studies
Understand
INTRODUCTION TO PARTICIPATORY ARTS TOOLS
3. Field Observations / Neighbourhood Mapping
Explore the neighbourhood by foot and map out the information, knowledge and perspective on the neighbourhood and its users
4. Interviews with Man-on-Street and Community Experts
Draw out personal stories and experiences in intimate and casual setting to uncover deep-seated needs, aspirations and perspectives in the neighborhood.
Create
CREATE OPPORTUNITIES TO ADDRESS NEIGHBOURHOOD ISSUES THROUGH PARTICIPATORY ARTS
5. How Might we....?
Turning challenges into opportunities through artistic engagements
6. Ideation
Harness the collective power of brainstorming and develop potential ideas to benefit the community/neighbourhood
Past Workshops
Read more about what our past participants learnt from the previous workshop here.
Pasir Ris Elias Community Club
10 Oct 2015
Bedok Community Club
5 March 2016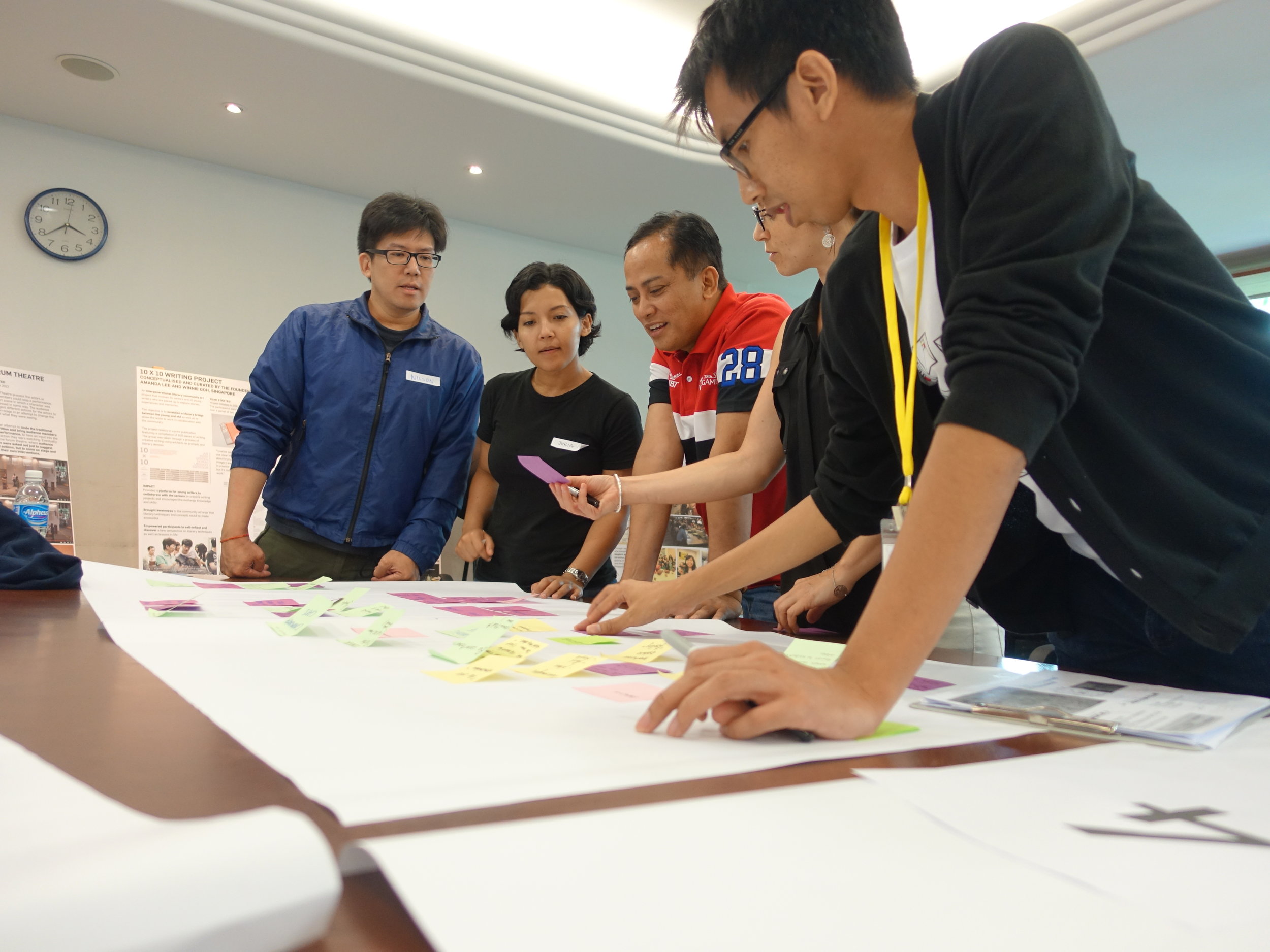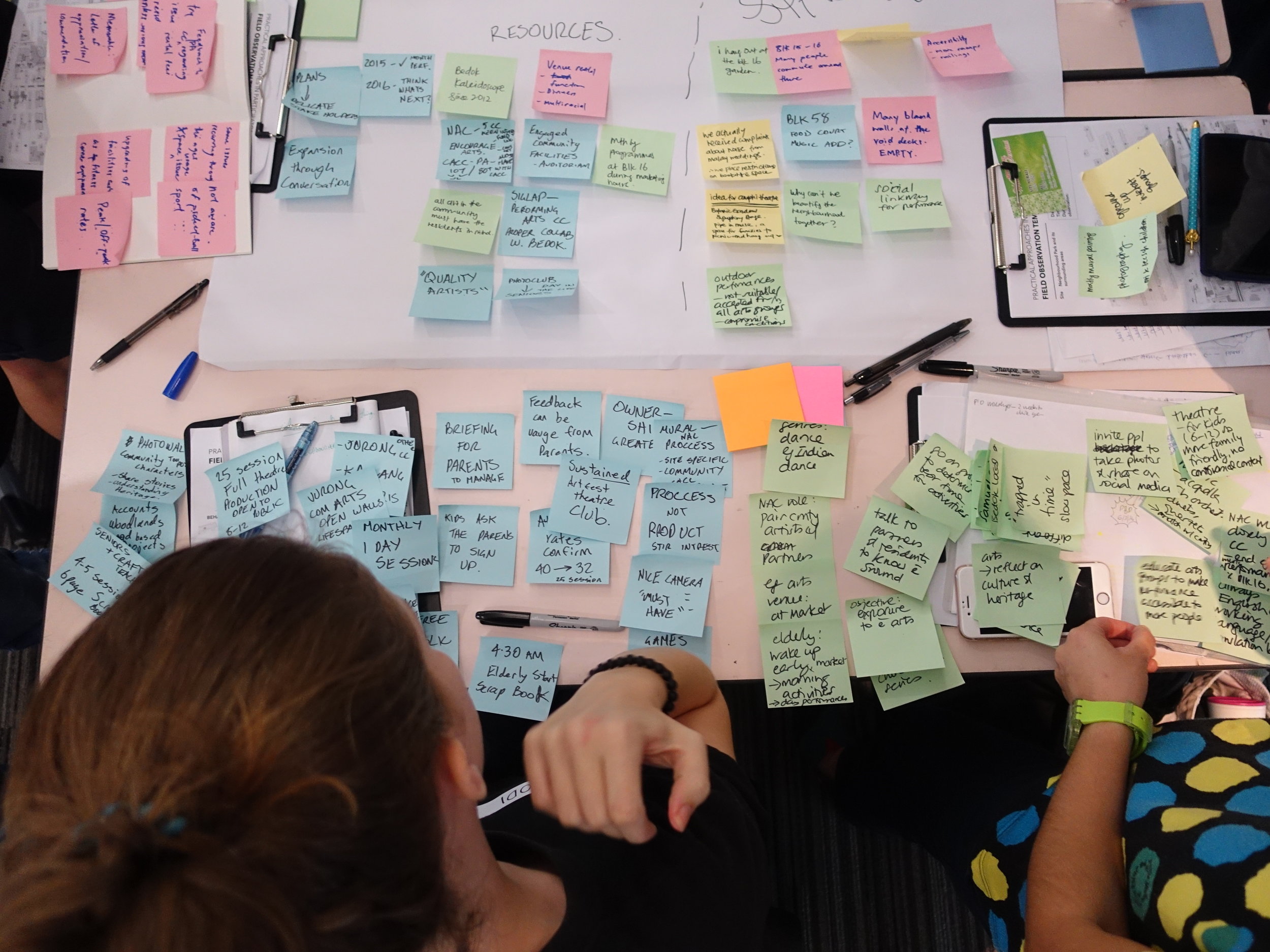 Facilitator
About Participate in Design (P!D)
P!D is a registered non-profit organisation that helps neighbourhoods and public institutions in Singapore design community-owned spaces and solutions. We are dedicated to engaging and enabling people in shaping their everyday environments and local communities. Founded on the firm belief that everyone has the right to participate in and influence the design and planning processes that affect them, P!D provides services in designing and facilitating the public participation and engagement process concerning the built environment. We research, test and develop socially just and inclusive methods of design that are appropriate for our local neighbourhoods, while also promoting the integration of participatory design in design education and practice.
P!D was founded in 2012 to expand on the participatory design work that its founders, Jan Lim and Mizah Rahman, have been doing since 2010. We have partnered with grassroots organisations, educational institutions and statutory boards in various initiatives to build engaged and empowered communities.
Read more about their approach here.
Find out more about their community-driven projects here.
Registration form for Participatory Arts Workshop
26 November 2016
Queries
If you have any questions or would like more information, please contact Max CHENG via phone (6346 9627) or email (max_CHENG@nac.gov.sg)

WORKSHOP FEE
This workshop is organised and subsidised by the National Arts Council (NAC) to provide skill-building opportunities that advance and expand the applicants' arts practices in the different communities.
Successful applicant shall only pay a subsidised fee of $36 to attend the workshop, upon confirmation of participation.
Official receipt will be issued upon receipt of fee payment.
Absentee(s) will be charged the subsidised fee of $36 for the workshop.
PAYMENT MODE – PAY AT THE DOOR
Cash payment only.
Location
Pasir Ris Elias Community Club
93 Pasir Ris Drive 3, 519498